Velma Posted on April 15 2019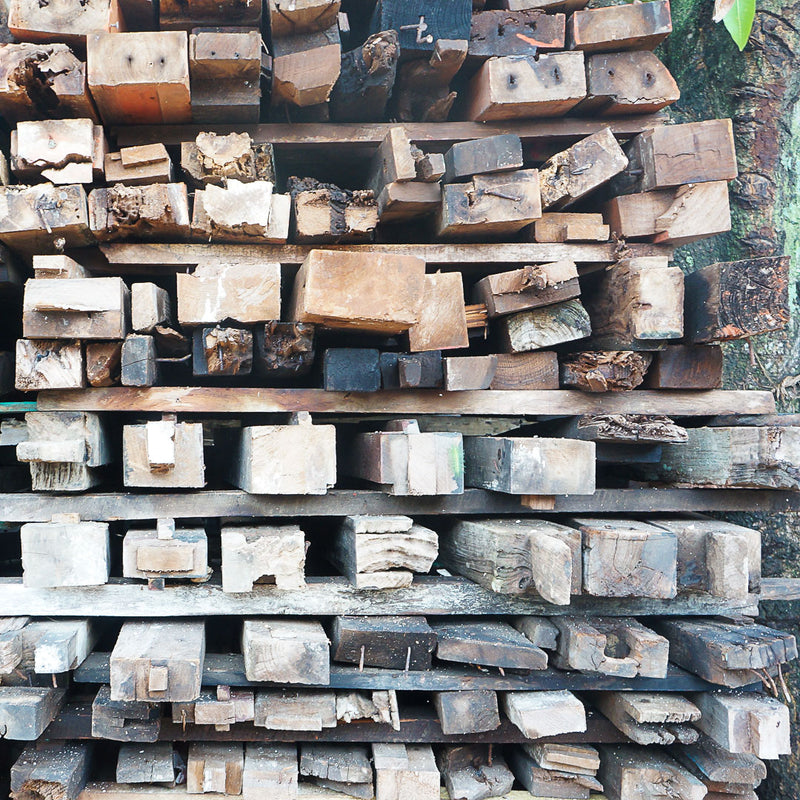 What is reclaimed teak?
The story of reclaimed teak begins a century, possibly two ago from humble beginnings, a tall deciduous hardwood species, Tectona Grandis. Available in abundance and far from the demands of consumerism, these vastly mature trees were felled at sustainable rates for the construction of houses and building structures. These structures stood tall and strong, sheltering generations of families, all the while withstanding the arduous elements of nature. As decades creep into centuries, these structures eventually go abandoned, dilapidated or torn down to make way for newer homes in brick and concrete.
Taken apart, these planks and beams look simply fit for the trash, with layers of caked paint along with a multitude of embedded nails and screws sticking out in all angles. Although easily regarded as useless material, lying underneath this tired facade lies an invaluable material; honey golden, oily and resinous teak, ready to be reclaimed and restored to its crowning glory.
All our teak are reclaimed by hand in our production facility in Central Java. Our craftsmen work tirelessly, sanding the weather beaten surface and recovering any cracks and holes that has been left behind from screws, nails and previously fitted hardware such as hinges and bolts. Once restored, our planks of teak stand extremely beautiful, resurgent and ready to start over, spending the following decades to come, in your home as pieces from the Naturalis Historia collection.   
Traits and characteristic of teak wood 
Teak, is undeniably without doubt, the crème de la crème of timber in the South East Asian region. It has been used in construction from as early as the 7th century and possesses expansive qualities.
Benefits of teak wood:
Teak is structurally tight grained and known for its durability and tensile strength. Resistant to swelling and warping.
Teak is naturally filled with a high content of natural oil and rubber. It also has the ability to retain these properties endlessly, even after being processed, giving it remarkable water-resistance and resistance to dry rot. This attribute contributes to teak being a popular choice for outdoor furniture, boatbuilding and decking.   
This high oil and rubber content also makes teak naturally resistant to parasites and fungi; conditions that may either-wise wreck irreplaceable damage on other types of wood.
Teak has been revered for centuries as an extravagant building material, a symbol of status and grandeur.
Maintenance of teak is easy and low. You do not need to weather-proof furniture that you plan to leave outdoors and apart from the occasional waxing, there is virtually zero effort in the up-keeping of your teak wood piece. Years of use may however lead to dirt and grime build up and if left outdoors, you may notice it taking on a silvery grey colour. In this event, all you have to do, is a deep wash with homemade solution and a brush. You may also choose to sand a fraction of a millimetre off (based on the degree of dryness on the exterior) and wax over.
Why reclaimed and not new teak?
Teak has gained considerably in demand over the years and hardly found in natural forests, making plantation teak the only viable option to obtain teak without illegal logging. Despite being an effort in environmental friendliness, plantation teak are cut very young, lacking in time to mature. This in turn yields teak wood that is very lightly coloured, sometime with a hint of green with under prominent grain definition. Most times, furniture produced from plantation teak have to be stained to establish the deep golden tan that teak is synonymously known for, a deceitful manner to pass them off for a higher quality product. 
The alternative would be long-rotation teak, which are wood obtained from plantations that allow their trees to mature, cutting them between 60-80 years of age. This produces more deeply coloured wood with prominent grain. These two options, however mean, that the wood is cut fresh and just as any freshly logged trunk, it is moisture laden and will have to spend time in a kiln. Inadequate time in the kiln and uneven drying will eventually result in furniture that may split in the long term.
Our choice to produce primarily in reclaimed teak is a conscious one. We strive to take nothing from nature but only to produce with what has already been taken. This, partnered with our artisan approach to construction and assembly, strikes a winning balance for both parties as we harm not, the environment and in return, she provides us with reclaimed teak, dried to its optimum, strengthened and beautified by the elements of nature herself. 
Benefits of reclaimed teak:
All of the above mentioned traits and more.
Withstanding constant exposure to rain and shine over the centuries has resulted in fortified strength of reclaimed teak. We attest to this as our tools are considerably blunted during the process of reclaimed teak in comparison to plantation teak.
Every piece of reclaimed teak has individually taken on patina based on their placement and degree of exposure to the elements of nature. This allows us to produce furniture with a lovely gradation of warm, honey golden hues, giving each piece character that cannot be replicated.
Reclaimed teak is wood of exceptional quality as these derived from Tectona Grandis trees that were felled centuries ago at very mature stages varying between 100-200 years old of age. This is vital to the development of beautifully outstanding, elongated grains and deep honey golden hues; traits associated only to old-growth teak.
Minimal environmental impact. Reclaimed teak is a environmentally sustainable source for now and paired with our traditional techniques and efforts for zero waste, we keep our carbon footprint to the bare minimum. Reclaimed teak has been optimally dried by the test of time alone, ensuring no problems in the future. These is no need for kiln drying, an energy intensive process that does necessarily produce the best result.       
Maintenance of reclaimed teak is effortless. We recommend waxing occasionally to build up resistance to stains from daily use and need be, a full sand down every few years to revive the grain beneath. 
Reclaimed teak eclipses any other material in aspect to beauty and distinctiveness as it is a material that has lived. It has lived as houses and structures that gave shelter to generations that lived in its walls. Every retouched hole tells a story from another era, and place. Now that it has been reclaimed and part of our Naturalis Historia collection, it is ready to spend another lifetime with you, in your home, documenting experiences and gathering stories to pass on the the next.  
With all that has been said, reclaimed teak is gaining noticeable attention in the west and demand had grown immensely. As wooden houses slowly get replaced by concrete ones, it is only a matter of time that reclaimed teak, as valuable as it is now, shall deplete completely. 
Visit us at any one of our outlets to discover our collection and learn more about this valuable material. 
We also cater to project and custom requests.